RND Solutions - Video Conference Systems
A superb collection of Video Conference Equipment.


With home and hybrid working becoming the norm, selecting your video conference equipment is important. Here we identfy the most common rooms, with links to products we believe will exceed your requirements.
Below is a list of common Video Conferencing Rooms and product recommendations.
RND Solutions will design, supply and install your new conference room system. The subject is wide and varied so, with this in mind, we offer A FREE OF CHARGE 30 minute meeting to discuss your requirements.
Click Here To Book Your Free Of Charge Meeting
Home Office & Bring Your Own Device (BYOD)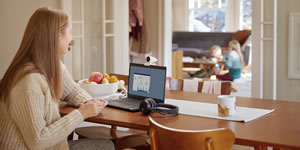 With the increase in working from home, on the move and in the office, products providing outstanding picture quality and audio are paramount.
Focus Rooms & Hybrid Working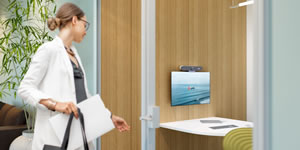 Focus rooms provide a space for employees to take private video calls. The products in this category help hybrid companies with plug-and-play devices like the
Poly Studio P15 Video Bar
with advanced
AI
that places the focus on the speaker so that everyone, including remote meeting attendees, have a clear view.
Huddle Rooms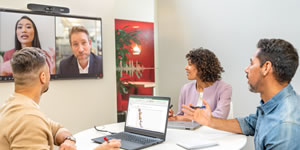 A huddle room is a small meeting room equipped with audio and video capabilities that companies use for quick team meetings (AKA Team Huddles). Aside from size, what makes these rooms different is that they are an easy alternative to large conference rooms. Take a look at the brand new
Poly Studio R30 USB Video Bar
specifically designed for huddle rooms and small group spaces.
Medium Size Conference Rooms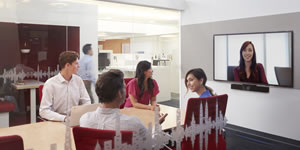 The workhorse of meeting spaces is the mid-sized conference room, which typically has 8 to 10 chairs. The
Poly All-in-One Video Conferencing Kit
or
Poly Microsoft Teams Room Kit
will provide board-room-quality audio, and knock-your-socks-off video, for mid-sized rooms.
The Poly X Series of products are simple to use, with support for leading cloud video services built right in. No PC or Mac is required and with its wireless content sharing, allows users to collaborate without cables.
Large Conference Rooms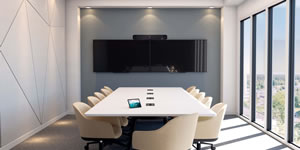 Large conference rooms, which include a long table seating arrangement, are your typical boardroom setups. An important factor to consider is getting the right audio pickup range from the entire room, as well as being equipped with a suitable camera to cover different sections of the room.
An outstanding product, to meet the stated large conference room requirements, is the
Poly X70 Video Bar
a beautifully engineered, premium video conference solution that combines razor-sharp 4K video with boardroom filling stereo sound for simply the best meeting experience available.